Purposeful Learning, Engaging Activities
Our broad and balanced Curriculum has been designed to ensure each and every child can succeed by offering stimulating and awe-inspiring learning experiences with our Christian ethos at its heart.
We ensure the curriculum is ambitious for all pupils; carefully and coherently planned and sequenced and is successfully adapted, designed and developed for disadvantaged pupils and those with special educational needs.
It enables the children to share ideas, express their opinions and apply knowledge and skills learned in a wide range of meaningful contexts. It offers opportunities for all children to investigate, question, debate and challenge.
All children are encouraged to be the very best they can be. We want our pupils to be active learners, questioning, investigating, challenging themselves and sharing responsibility for driving their own learning.
Above all, we expect our children to give their very best and to be proud of their achievements. These qualities needed for successful learning are underpinned by our focus on independence, inquisitiveness and resilience.
All of this is delivered within our aim of 'Purposeful Learning; Engaging Activities' where we provide a fictional or real-life scenario to the current unit in order to increase levels of engaging and to raise aspirations by providing an insight into the world of work.
We have agreed on an exciting new strap line for our curriculum – 'Purposeful learning, engaging activities.' A curriculum where children have a real or fictional purpose to the learning or a working towards a purpose at the end of the unit.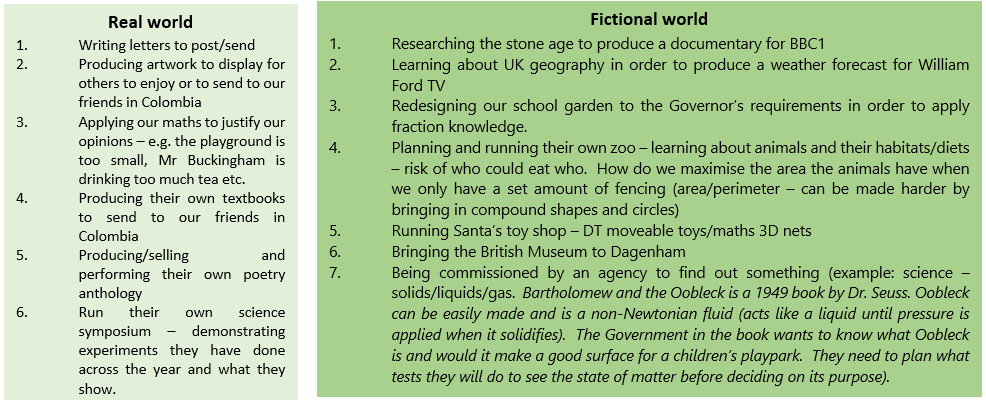 These ideas should result in engaging activities, although we ensure the context/purpose does not distract from the learning. These can be more end of unit tasks to showcase the learning meaning yes at times pupils will just have to write! However, it is our aim to ensure they are inspired. This can be achieved through pupils:
Knowing they are working for a purpose
Knowing others will see and possibly benefit from the work
Knowing they may bring about change
Feeling strongly about an issue and wanting to communicate their thoughts following a debate/discussion
Feeling inspired through examples from others
Use of learning environments to support the learning – especially some of our corridor themed areas
Adults in role to be interviewed
Children in role to be interviewed
Use of discussion/debate/big questions/drama/hot-seating/role play etc
In addition, we need to enrich the curriculum further through:
Meaningful and engaging trips linked to the curriculum
Our agreed list of 11 things we want the pupils to have experienced linked in with the curriculum and our Christian mission and values.:

Visit a foreign country
Represent the school in music/sport/art
Serve within the local community
Visit London including the West End
Eat in a restaurant
Perform to an audience
Visit contrasting locations - beach, forest, farm
Residential - spend at least a night away from home
Cook a meal
Act generously within the wider world
Experience and enjoy UK attractions: zoos, museums, castle, National Trust.

Links made with the Christian ethos of the school/SIAMS framework – disagree well, courageous advocacy, discuss, debate, big questions, morals.