Our school lunches are provided by our in-house catering team.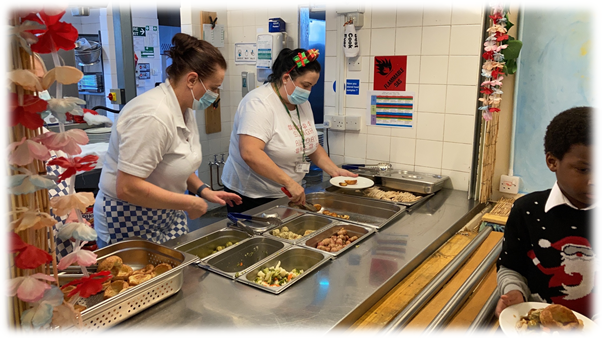 Mrs Watkins has been our cook supervisor for over 13 years and provides a varied and nutritious lunch menu for students and staff. We order quality assured ingredients that come from trusted sources.
We offer a 2-course lunch for only £2.10 per day.
We use a cashless system ParentPay that requires you to pay online or at a local pay point. We will set up a ParentPay account for your child as soon as they are on roll and pupil barcoded letters are available at the school office.
Minimum payments are £2.10.
We ask you to pay in advance and be in credit on your account.
The menu runs in 3-weekly cycles and is colour coded for your convenience.
RED is our meat option.
GREEN is our vegetarian option.
YELLOW is our light bite option.
We offer a winter and summer menu and have special theme days throughout the year.
We are a healthy eating and nut free school.
We recommend you speak to the catering staff or school office if your child suffers with allergies or have diet restrictions.
Children may, if required, bring a packed lunch. This should be suitably packed in a plastic container. Drinks, as part of the packed lunch, may be brought to school but must be in a safe plastic container. No glass containers or glass filled thermos flasks are permitted for reasons of safety.
.Your child may be entitled to free meals at school. Applications can be made online via the LBBD website. If you require any support, please contact our Family Support Worker Mrs Kerry Noakes on 0208 270 6582 or email family-support@williamfordschool.co.uk who will be very happy to assist you.
Due to the fluctuations in finances over the last year we would encourage all parents to complete this form as you may not be aware of your entitlement.